I am so happy to announce that we have some new bar soaps that we want to share with you! I'm excited because I used these soaps for years. My friend, Jane, used to make them, and after trying them, I refused to go back to store-bought soap! I was so sad when she said that she was going to stop making them, and I bought the last of her soap that I'd used for so long.
I recently learned that Cathy is now making soap using Jane's exact recipe. Nick and I talked to Cathy and she is just as nice as Jane! We were both happy to start carrying her soaps. All of the soaps are made of a base of saponified coconut, olive, and palm oils, using the cold process method. The scented soaps are scented with essential oils only, no harmful perfume oils. No artificial colors or dyes are used. Some of the soaps contain shea butter or ground herbs or flowers. All soaps are handmade and hand cut to approximately 5 oz.
Unscented Oatmeal
- With shea butter for sensitive skin and those with eczema and psoriasis. Unscented for those who are sensitive to scents of have MCS (Multiple Chemical Sensitivity). Oatmeal is very finely ground and the soap is soothing with a wonderful texture.
Eucalyptus Mint
- Refreshing, with a wonderful smell of eucalyptus and spearmint.
Lemongrass
- Lemon and orange essential oils provide a crisp, citrus scent.
Lavender
- Calming scent from lavender essential oil and ground lavender buds. Naturally colored with ground indigo root.
Gardener's Soap
- Lemongrass, peppermint, and ylang ylang essential oils combine to provide a fresh scent. Ground juniper berries make this a great scrub bar, getting the dirtiest gardener's hands clean!
Cathy's husband makes wonderful
Cedar Soap Dishes
, pictured below.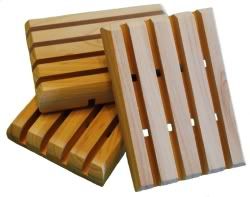 ~~~~~~~~~~~~~~~~~~~~~~~~~~~