We've added some other new products to our lineup:

Goraw Super Chips and Super Cookies!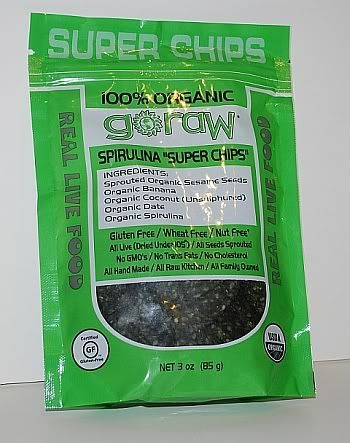 We have two varieties of chips:
Spirulina
and
Pumpkin
. We also have two varieties of cookies:
Original
and
Chocolate
. I'm still not certain exactly what the difference is between the chips and the cookies. They look the same to me!
I expected the chips to be salty but they're both sweet. The Spirulina taste like banana with that cool green spirulina color. I thought that the Pumpkin were going to have a pumpkin pie spice flavor, but they're a sweet snack made with (sprouted!) pumpkin seeds.
Both cookies are good, although I prefer the Original. Nick likes the Chocolate better, so it's all just a matter of personal preference.
We both like the fact that they're dehydrated at under 105 degrees, they're vegan, they're organic, and they're free of refined sugars, wheat, gluten, oils, dairy, and nuts. They have no GMO's or trans fats. They're made by hand in an all-raw kitchen. The company is working on biodegradable packaging, which is much appreciated.
We recently attended a day-long conference, and these were great little snacks to toss in our bag. They're small, lightweight, and were a quick, easy snack to munch on throughout the day. The manufacturer says that refrigeration is not mandatory but will keep the product fresher longer.