Lifefactory
Sippy Caps
for the 9-ounce bottles are here! We've received two thumbs up from our own little testers. I'm already a fan because I'm visualizing no more spilled drinks at the dinner table because our little ones forgot to put their lids back on!
The Sippy Caps are available in four colors:
Royal Purple
,
Spring Green
,
Ocean Blue
, and
Raspberry
. They have an insert that makes them spill-resistant, which I also appreciate. We offer them individually or in a two-pack.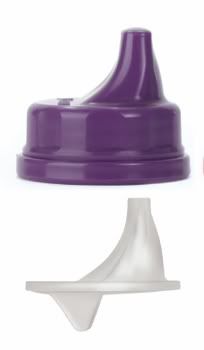 I have to say that I'm a bit confused as to why there
isn't
an orange cap, and why there
is
a raspberry cap when there's no 9-ounce raspberry bottle! The manufacturer simply said that the orange is not available at this time, and that there will be a Raspberry 9-ounce bottle sometime in the future. So, for now, we're just mixing and matching!
We're still looking forward to the Flip-Top Caps for the 16-ounce and the 22-ounce bottles, which are scheduled to debut in May. Until then, we're happy to have our
Sippy Caps
!
~~~~~~~~~~~~~~~~~~~~~~~~~~~~~~~~~~~~~~~~~~~~~~~~~~~~~~~~