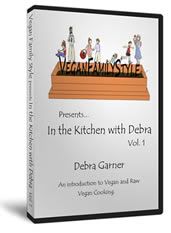 Debra has an amazing testimony. She's a wife and a homeschooling mom to seven children. She's also lost over 100 pounds! In the summer of 2008, Debra found herself weighing 300 pounds. In her words,


"I ate for comfort. Over the years we had lived places that were isolated from the community- I was lonely and that gave me plenty of reasons to eat. Food had become my friend. I also had 6 children to take care of and home school. I hid behind my kids, my husband and my weight. I was one lonely lady. Which led me to eat more."


At that point, Debra realized that she wasn't living the life she wanted and she decided that she'd had enough.
Eventually, Debra and her entire family started eating a vegan diet. Debra went on to become a Certified Raw Vegan Chef.
On her DVD, Debra talks about her weight loss journey, about vegan and raw vegan diets, and about growing their own foods, both indoors and out. She has an easygoing manner that is comfortable and inviting, as she shares with people who are new to this way of eating and are looking for a healthier lifestyle. She also demonstrates how to prepare the following:
Almond Milk
Green Smoothies
Nut Cheese
Flax Crackers
Fruit Leathers
Jalapeno Poppers
Raw Red Pepper Hummus
Veggie Wraps
Sweet and Sour Soy Curls

In addition to the DVD, a 360-page ebook is included, featuring topics such as shopping on a budget, stocking both a vegan and raw vegan pantry, a vast resource guide, and over
250 vegan and raw vegan recipes
from Debra and some of her friends.
I love these products for several reasons. First of all, as I said, Debra is very inviting. I feel like I'm sitting across the kitchen table from her, chatting away. I think that the information that Debra provides is useful for
all
families, not just those looking to follow a 100% vegan or raw vegan diet. There's so much evidence out there that our children are unhealthier than ever before because of the multitude of processed foods that are devoid of any nutrition. Children are overweight and malnourished, at the same time! Debra's ideas and recipes can help all families start eating the delicious fruits and vegetables that are lacking in so many of our diets.
In the Kitchen with Debra
is fantastic because Debra is real. She's a wife and mom. She has lots of responsibilities and limited time. She has a budget. She doesn't offer recipes that take hours or even days to prepare, and she doesn't offer recipes with exorbitantly priced ingredients. She's here to offer help because she
knows
how hard it is to balance everything and feed our children healthy food that tastes good. I think she does a great job of it!